The German Dual Education – Gaining Acceptance amongst Corporate India
IGTC Placement Process 2017
The Economic Survey 2017 projected a decline in the industrial sector's growth to 5.2% in the current fiscal year from 7.4% in the last year, which comprises of job-creating industries; however the 'Make in India' and 'Start-up India' initiative is infusing new energy in the industrial and corporate sector.
This positive outlook is already reflecting in the placement process of various management institutes including the Indo-German Training Centre (IGTC) in Mumbai. For the last 25 years, IGTC has been successful in achieving enviable placement record. This year alone, 70% of the 78 students of the PGPBA (Post Graduate Programme in Business Administration) Batch 2015-2017 have already been placed even though the process started only in January 2017!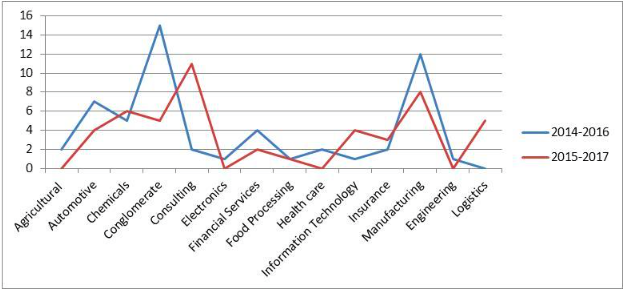 The slow-down in the Manufacturing sector did not affect the placement process at IGTC with consulting companies like Neilsoft, GRP Consulting and Zycus consulting seeing value of the IGTC students.
With more and more companies joining the IGTC family, Radhieka R Mehta, Director, Indo German Training Centre quotes 'Surprisingly the placement process this year has been a lot easier as compared to last year'. For batch 2015-2017, 25% students were absorbed by their training companies; however 65% were placed through the Open Placement Process, proving that the IGTC brand has only grown, not only in terms of its student intake but also in terms of its relationships with various corporates.
According to Mr. Jürgen Wolf, Managing Director, Häfele India, partnering with IGTC on training and placement-is all about the similarities and Variances,'! Together they form an indispensable source of benefits 'While the similarities create a familiar environment to connect with, the variances complement existing strengths with new perspectives. The result is a wholesome combination that is young yet seasoned, new yet familiar, ambitious yet grounded. I feel that Häfele's association with Indo-German Training Centre (IGTC), has experienced an analogous journey to this. Our similarities include our ability to pace ourselves with the dynamic requirements of this country, our ability to adapt to new methods of learning and growing; but most importantly, our apparent German roots. The variances that have complemented our association beautifully are dual in nature". He goes on to state that, while Häfele has absorbed promising and talented individuals from IGTC's alumni into its core employee base; IGTC, on the other hand, has added Häfele as an essential Business Partner in all their endeavors. This journey of similarities and variances never fails to amaze, yet comfort me".
My happiness knew no bounds when I was offered job in Sales by Hafele India. I would like to thank my training company, Bosch and IGTC for this beautiful and exciting journey. Without IGTC it wouldn't have been possible and I really appreciate that this institute lives up to the expectations of students and gives them an amazing opportunity to build their careers.

Nikhil Khandelwal, trained by Bosch India, recruited by Häfele India Pvt. Ltd.
PGPBA Batch 2015-2017
Some of our recruiters for this year included companies Baerlocher India Additives Pvt. Ltd., Bajaj Allianz General Insurance Co. Ltd., Capricorn Logistics Pvt. Ltd., DBOI Global Services Pvt. Ltd., DSM Soft, European Business Group, Extentia Technologies, Fuchs Lubricants (India) Pvt. Ltd., GEP Consulting, Häfele India Pvt. Ltd., LANXESS India Private Limited, Mercedes-Benz India Private Limited, Mott MacDonald, Neilsoft Limited, PBO Plus Consulting, Protos Engineering, Schaefer Systems Intl. Pvt. Ltd., Schott Kaisha, Siemens Ltd., Vedic Pac Systems, Wacker Chemie India and Zycus Consulting.
The placement process is essentially, a marriage between an IGTCian and a company and like most marriages; this has its own set of challenges. Nevertheless, with teamwork, grit and faith, magical things end up happening. At the end of it all, the whole association with IGTC will be long cherished!

Pankaj Murali, trained by Clariant Chemicals India, recruited by GEP Consulting
PGPBA Batch 2015-2017
As mentioned by Pankaj, IGTC compares to a role of a matchmaker during admissions, however this holds true during placements as well – right student in the right company with a right profile. This unique course thus gives the students an edge to carve a niche for themselves in their organizations thus enhancing their careers.
One of the Founding Member Companies and till date a strong Partnering Company of IGTC, Siemens has always believed that the practical-oriented, dual education system, is IGTC's key differentiator and IGTC flexibility when it comes to joining the various kinds of jobs they have to offer is advantages to both parties! Today, Siemens recruits from IGTC, support our businesses in sales, marketing and strategy, in addition to working with corporate functions. Mr. Sunil Mathur, Managing Director & CEO, Siemens Ltd. take on this unique and special relationship is: "The strength of our partnership is reflected by our annual intake of graduates from IGTC. We hire at least 15-20% IGTCians, on an average, every year, from the training perspective. IGTCians have contributed immensely through their competence that is essential, to attain our long-term organizational goals. Not surprisingly, they have risen to assume responsibilities in crucial roles, not just in India, but across the world.'
A Job with Siemens Ltd in Human Resources is a dream comes true for most HR enthusiasts like me! And for this I'm truly thankful to IGTC and Ms. Radhieka Mehta, the Director. My journey at IGTC has been truly amazing. Faculty at IGTC helps you to mould yourself in the way one is expected to be in the industry. IGTC is unique amongst the bandwagon of MBA Schools since it helps to bridge the anomalies between classroom learning and industry through the internship which is an essential part of the course. My internship with HDFC ERGO GI Pvt Ltd in the HR department honed my interest in the field giving me a fabulous learning opportunity.

IGTC helped me to be open to various new avenues and challenges every day. The entire course helps you to push your boundaries and realize your true potential. "Being Phenomenal" is the true essence and beauty of the institute
Gauri Thakur, trained by HDFC ERGO General Insurance Co. Ltd., recruited by Siemens Ltd.
PGPBA Batch 2015-2017