For any management school, final placements of the graduating batch and their acceptance by the industry is the final verdict. This year, one of the biggest fears looming large was whether the students will stand true to the industry requirements, after having completed the programme almost 60% in an online format. Would the same amount of knowledge, competencies and skills be gained and demonstrated across a digital screen? It was a question that was playing on the minds of the IGTC faculty as well as management team. Through continuous class briefings, assessments, group work, and vivas; no effort was spared to ensure that the students were stretched to develop all the facets required in this ever-changing world: Intelligence, Emotional, Social and Adversity Quotients.
With this preparation, the IGTC team pumped in relentless effort to ensure that the rigorous IGTC learning journey culminated into a sustained career for every IGTCian. It was very important to maintain a transparent, fair and well-communicated process, across the 100 deserving graduating students. Morale and team-spirit had to remain high throughout all the emotional upheavals, not only posed by a tough and closed job market, but also by the severe physical and psychological impact of Covid's 2nd wave. IGTC Director Radhieka R Mehta anchored the class together with determination, faith and positivity as they underwent a roller-coaster of experiences; a time of acceptances and rejections, failures and improvements, celebrations and disillusionments.
With the placement drive spanning from January to July 2021, IGTC stands proud of its outstanding record of having placed 92% of the students till date. This has only been possible due to an important stakeholder group: the IGTC Alumni, who not only continue to thrive and demonstrate phenomenal progress in the organizations, but also maintain true allegiance to their Alma Mater. One look at the placement statistics below will give you a perspective into the ensuing Joys@IGTC
We have achieved the unimaginable; making sure that every student is placed at the right time and at the right place. By bridging the gap between the industry – oriented curriculum and the existing skill sets of its students; IGTC has ensured that employability remains its way of life. With over 37 companies recruiting IGTCians this academic year, 65% of our students were placed either in the companies that they interned with or via the official Open Placement Process hosted by IGTC. 25% students found opportunities best suited to their candidature on their own efforts.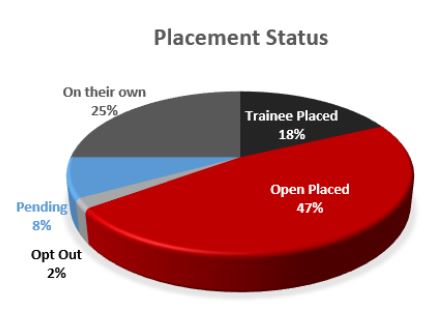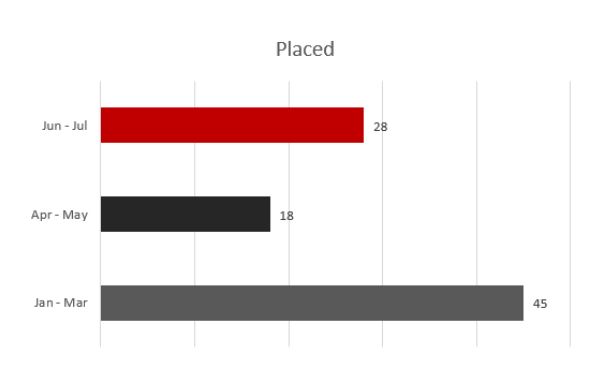 The placement process at IGTC commenced with Bosch Ltd. recruiting the first student. The second wave of the pandemic being at its peak in April and May placements saw a small dip in hiring process. The placement process saw a sizable intake by leading organizations like; Behr Hella Thermocontrol India, Dr. Oetker India Pvt. Ltd., Ethosh Designs, GEP, Knorr Bremse Technology Center India, LANXESS India, MothersonSumi INfotech & Designs Limited, Revergon Solutions Pvt. Ltd., Schaeffler Group, Siemens Ltd., Wuerth Industrial Services to name a few.
Our Partnering Training Organizations; Mercedes-Benz India, Siemens Ltd. and GEP, have regularly shouldered the responsibility of training and recruiting students. These organizations, not surprisingly, are among the top recruiters at IGTC having placed 17 students across various functions.
| Rank | Company | Students |
| --- | --- | --- |
| 1 | Mercedes-Benz India Pvt. Ltd. | 7 |
| 2 | Siemens Limited | 6 |
| 3 | GEP | 4 |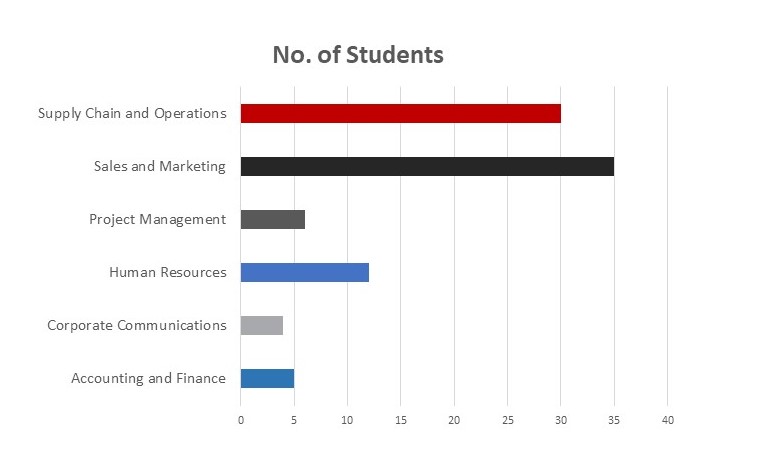 Having studied a general management curriculum at IGTC, students have been placed in organizations across various functional areas. The most sought-after profiles have been Sales & Marketing and Supply Chain & Operations with over 60% students employed in these functions.
IGTC has also been delighted to witness the return of 2 major Partnering Training Organizations: DHL Express and BASF India Ltd. for the placement process. Both these organizations have recruited 2 of our finest students, along with being the highest paying recruiters at IGTC.
| Rank | Highest Packages Offered by••• |
| --- | --- |
| 1 | DHL Express |
| 2 | BASF India Ltd. |
| 3 | Deutsche Bank of India |
| 4 | BrowserStack Limited |
| 5 | Drip Capital Services India LLP |
| 6 | Bajaj Allianz General Insurance Co.Ltd. |
With a successful placement season approaching its finale, IGTC is deeply grateful to all its Partnering Training Organizations for their steadfast support during such uncertain times. Recognizing talent, grooming young professions and providing a cornerstone to realize their dreams; these companies have done it all. Building careers…one dream at a time!
The PGPBA Batch 2019 – 2021 will go down in the history of IGTC for its resilience and endurance; a batch that has surmounted all odds, and we can only wish them the very best as they usher in a new phase in their lives; a corporate life!